Freebie Font: Bright Future and Shaded Letters
It's Freebie time!
I love the weekends when I can sit down and give away something nice. I made 2 fonts recently and though it's free just for personal use, you can sure make a lot of happy letters with it, signage, posters, gifts with this type of font.
The first one I made was for the Bright Future Graduation issue of our shop's e-newsletter. It's a happy, sunshine-y type of font to use when you want to cheer up whatever it is you're writing.
The second font, Shaded Letters is a bit more serious but still really has that positive jive that we all enjoy.
To install, just go the the link and download the .ttf file. Once you have them downloaded already, you can go to your File Manager program and drag them to the C:/Windows/Fonts folder and you're done.
I do hope you enjoy using them. Please share with me your projects with these fonts and I will post them here.
Enjoy every bit of life and do drop me a comment, these truly make my day!
CLICK HERE for more Freebie Fonts: Part 2
CLICK HERE for more Fontabulous Fonts
*If you wish to use these for commercial projects, please get in touch with me first. There is an eensy weensy license charge.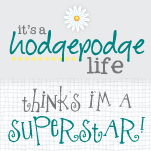 ABOUT THE AUTHOR
Calej lives in Japan with her husband. She designs and doodles for a living.